(Last Updated On: April 26, 2022)
If you're anything like me, you spend a lot of time in your sewing studio. And if your sewing studio looks anything like mine – it might be a bit of a mess. Sometimes I like to think that the mess is just the result of my creativity running wild and not taking the time to clean as I create, but when it gets a little too out of hand I find it can actually stifle my creativity. That's when you know it's time for a change – and for a little organization and decoration! Transforming your sewing studio into a space that reflects your personality and makes you feel happy every time you step through the door can make a huge difference!
If you want to give your sewing studio a vintage feel to complement your vintage sewing machines – or just because you love vintage décor – I've compiled a list of fun ideas to give your sewing studio a vintage makeover!
Storage and Organization
First up, let's take a look at some different ideas for keeping your space organized while giving it some vintage personality!
Wooden Cabinets for Fabric Storage
Wooden cabinets can be a great way to get your fabric stash organized and out of the way – plus they add to the vintage feel of your sewing studio. The dark, wood cube storage cabinet in the photo below really adds some personality to the sewing studio!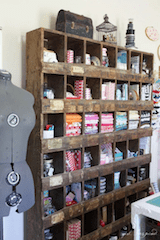 If you're in need of some fabric storage for your own sewing studio, one great option I love is THIS vintage style cabinet with glass doors so you can see all your beautiful fabric!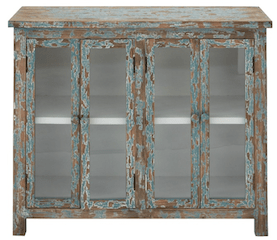 Another great fabric storage option is a cube storage organizer! THIS cube shelf organizer is a beautiful dark cherry wood color, which adds to the vintage vibes in your sewing studio!
Wooden Sewing Machine Tables and Desks
To continue on with the wood theme, a vintage, dark-colored wood table or desk to set your sewing machines on is a really great addition to a sewing studio! You might even be able to find a great desk or table at a local thrift shop for a really affordable price.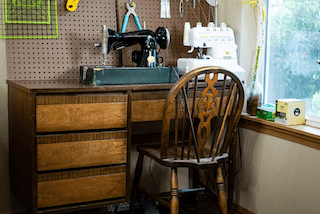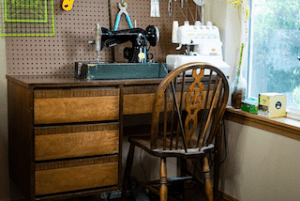 Now if you aren't able to find one at a thrift shop, THIS corner desk could be a great option! I especially love how much space there is to have multiple machines on the desk, ready to go at all times!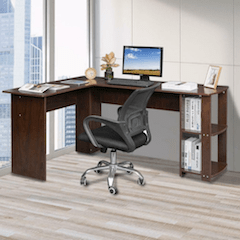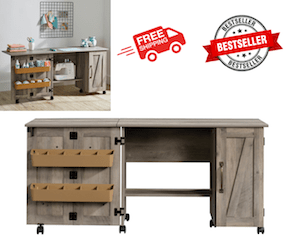 If you need something with a little more storage space, THIS sewing machine table would be great! Plus, it has wheels, so it's easy to move it around your sewing space if you ever decide to reorganize!
Spool Racks to Organize your Thread
Once you get a good collection of thread spools going, finding a spot to store them where they won't get tangled and are easy to see can be a real game changer! That's why I LOVE spool racks that you can hang on the wall. Below is my spool rack – it's a vintage find from one of my local thrift shops! If you want a similar spool rack, a search for a "vintage wooden spool rack" on eBay or Etsy will bring up some real vintage finds for you!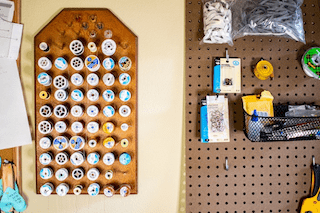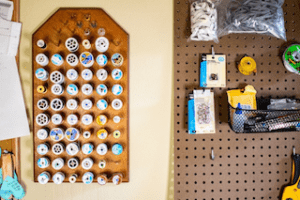 A metal spool holder can also be a really fun option, depending on the look that you like. THIS one is just adorable!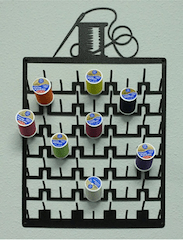 Vintage Style Oil Cans for Storing Sewing Tools
Another fun organization idea that will give your sewing studio some real personality is using vintage style oil cans to store your sewing supplies! Choosing different shapes and sizes of cans will really give your space a cool look.
HERE is a good option for a vintage style oil can to get you started!
Vintage Sewing Machine Themed Décor
If you have a beautiful vintage sewing machine in your sewing studio, or if you just love vintage machines, getting some vintage machine themed decorations can really add to the feel of your space.
Custom Sewing Machine Sign
I just loved THIS customizable vintage sewing machine sign! It would be so adorable on the wall of a vintage themed sewing studio!
Vintage Singer Sewing Machine Signs
Another great option for wall décor is THIS reproduced aluminum vintage Singer sewing machine sign – it really pays respect to the history of Singer machines.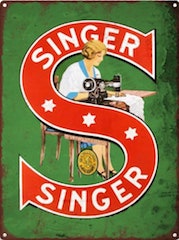 Another awesome sign that really pays respect to the history of sewing machines is THIS sign that displays the sewing machine patent diagram!
Record Clocks
We may all get our music via streaming platforms these days, but vinyl records are a fun addition to a vintage themed sewing studio in the form of a clock!
If you'd prefer a basic record clock, THIS one is really nice!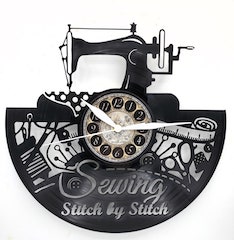 Or, if you want something with even more personality, check out THIS sewing machine themed record clock!
Vintage Sewing Machine Pillow
If you spend a lot of time sitting in front of your sewing machine, having a pillow on your chair can really help you stay comfortable. And of course, why not make it a vintage sewing machine themed pillow? THIS one is just adorable!
Handmade Ironing Board Cover
If you're looking to sew something for your freshly redone vintage sewing studio – try making an ironing board cover! THIS pattern could be a great option. Plus, you could make it with vintage sewing machine themed fabric! Isn't THIS fabric adorable?
An old-fashioned radio up on the shelf is a fun, extra-special touch in a vintage themed sewing studio. Doesn't the radio really add something in this vintage sewing room?
If you want to get your own vintage lookalike radio, THIS one is super fun!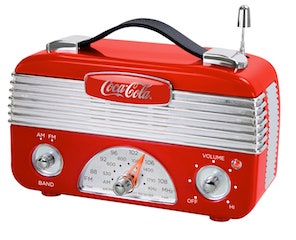 Quilts as Wall Hangings
Another great wall décor idea is hanging smaller sized quilts – if you get quilts of different sizes and patterns with similar color themes it adds a lot of texture to your room. Don't the quilts in this sewing studio just bring everything together?
Image source: https://www.allpeoplequilt.com/how-to-quilt/organization/organize-your-sewing-room
If you're looking for a handmade quilt to hang in your sewing studio, THIS one is beautiful!
Quilted Sewing Machine Mats
A sewing machine mat can help reduce noise and vibrations from your machine – and they look nice! You can make your own with THIS tutorial, and isn't the fabric they chose amazing?
Image source: https://sewsarahsmith.com/2020/09/27/sewing-new-machine-mats-and-matching-cushion-quick-tutorial/
What better way to bring in a dash of vintage than with your chair? I think metal, vintage style chairs would look amazing in a vintage themed sewing studio! Plus, you can add a nice pillow and maybe a blanket to the chair and it'll be a cozy place to hang out!
Check out THESE awesome red chairs!ebay.com/itm/351655102031
Or, if a vintage style stool is more your style – THESE could be a great option.
Unique and Unconventional Sewing Studio Ideas
By now you probably have tons of great vintage décor ideas for your sewing studio makeover! But what if you want something just a little more unconventional than a typical room in your house transformed into a sewing studio? Here are a few fun ideas if you don't have room in your house for a sewing studio, or simply want something a little different!
Retro Sewing RV Caravan
Image source: http://blog.makerist.com/sewing-room-ideas-michaelas-sewing-caravan/
The Makerist blog shared Michaela's story of how she transformed an old, vintage RV into an adorable and functional sewing studio! A retro RV would be such a great setting for a vintage themed sewing studio! You can read Michaela's full story HERE.
Backyard Shed Sewing Studio
Another awesome idea for an out-of-the-house sewing studio is transforming a prebuilt shed into a sewing space! Leah from leahday.com shared how she put together her amazing sewing studio in a prebuilt shed in her yard. You can check out her story HERE.
Garage Sewing Studio
Now if you don't want your sewing studio in the house, but you don't really want a shed or an RV in your yard – the garage might be a great option for you! Just ensure you have natural light to see without straining your eyes. Transforming your garage into a cozy sewing space will give you the privacy of being out of the house, but within easy access to the snacks in the refrigerator!
Mary shared on the Shop Martingale blog how she converted her garage into an amazing sewing studio – you can read about her experience HERE.
I hope now you have lots of great ideas on how to give your sewing studio a vintage style makeover! Which of these ideas are you going to try?
Summary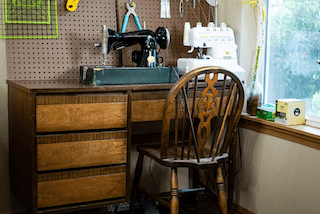 Article Name
Vintage Sewing Studio Makeover: ideas for transforming your sewing studio
Description
If you're anything like me, you spend a lot of time in your sewing studio. And if your sewing studio looks anything like mine...
Author
Best Sewing Machine Guide
Publisher Name
Best Sewing Machine Guide
Publisher Logo