(Last Updated On: April 27, 2022)
Best Customize Sewing Machine
Do you have an old sewing machine in storage that you aren't ready to part with, but it could use some TLC? Maybe you found a machine at a thrift store that has seen better days and you want to help give it new life. While some sewing machine owners prefer to leave their machines as-is or to restore them to their natural original state, others choose a different approach and are using this opportunity to stretch their creative muscles (even more than sewing does, that is!).
If you have a machine that is no longer functional, embellishing it in some way can turn it into an excellent decoration for your space. If it is still functional, decorating it in certain ways can spruce it up while preserving the functionality!
Your cloth or hardcover for sewing machines are a great way to give your sewing space some fun personality while protecting your machine. But have you ever thought about decorating your machine itself? I've done some looking, and there are some pretty creative machines out there!
Whether you have an antique sewing machine that needs restoration or you are just looking to make your current sewing machine match your personality, there are a few ways to go about it.
Bling
Ready for a sparkly upgrade to your machine? Try adding rhinestones, buttons, or trim! If you use your machine often, you will want to be strategic about where you place them to avoid getting your projects caught on them. However, if your machine is ready to retire from "functional" to "eye-catching decoration" in your sewing space, you can use a rhinestone kit like this one to really bring the bling!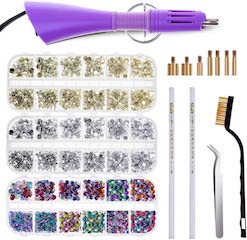 Decals
Decals are the quickest and easiest way to update your sewing machine, and there are SO many options! Unlike using paint, adding decals won't require much preparation, other than cleaning it to make sure they stick well. No taping the gaps and wheels required!
If you have a Cricut, or a friend you can borrow one from, you can make literally any decal for your machine. There are dozens of options to buy online too; a quick Etsy search will help you find decals that fit your style. While you're at it, grab a few decals for your Kitchenaid mixer too!
If the machine you are refurbishing is a vintage Singer, you can get decals directly from their site here. These decals are authentic Signer decals and are perfect when you are doing a pure and accurate restoration of a machine. Watch a full and creative restoration of a vintage Singer machine here!
Paint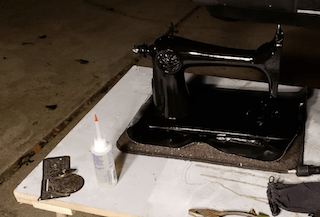 To paint your sewing machine or not to paint it? There are many opinions out there, as well as different factors to keep in mind. Read our post about repainting your sewing machine here.
For example, if the machine you are painting is a vintage Singer, you might want to stick to historically accurate colors and decals to restore it to its former beauty. You could paint it with a beautiful color though, and have some fun with it, like the folks at Still Stitching do!
However, if the machine you are working on does not have the same sentimental value and is just an older machine that has yellowed or looks rough, why not unleash your inner artist and get really creative with it? The sky's the limit when painting a sewing machine.
If you want to attempt to paint your machine yourself, there are plenty of tutorials like this one on YouTube to help you prep and know what paint to use, etc. The other option is to hire someone to paint your machine for you! Companies like Still Stitching and Twice Nice Shoppe specialize in custom painting older machines to give them a new life!
Decoupage
Why not try using fabric scraps and Mod Podge to update an old machine? There are some beautiful examples of decoupaged machines on Pinterest to give you inspiration. This option is a little more time consuming and potentially messy than using decals, but the results are worth it, in my opinion. Options to use for decoupaging your machine would be: fabrics that hold sentimental value or papers such as old letters or photos. Take a look at this gorgeous project for inspiration and an in-depth tutorial.
Sharpies
Here's a really fun, spontaneous option! Using sharpies requires very little prep, and can give your machine new life very quickly. Sharpies come in almost every color now, so whatever you are envisioning in your mind as a design is most likely possible. If you like to draw, this might be the best option for you! Keep some rubbing alcohol on hand to fix any mistakes, and let your imagination fly! Check out this machine makeover using sharpies.
If embellishing your sewing machine sounds fun to you, but you are not quite ready to take the step just yet, try starting with your sewing machine cover! Any one of these techniques can add so much character to your machine and inject your unique personality into your sewing space! What do you think? Would you ever consider decorating your machine in any way? Or do you prefer the "purist" approach to sewing machines, leaving them as authentic as possible?
Summary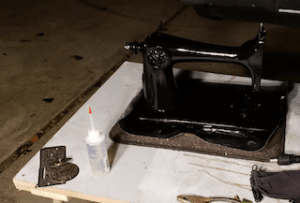 Article Name
5 Fun Ways to Customize an Old Sewing Machine
Description
5 Best Customize Sewing Machine, Do you have an old sewing machine in storage that you aren't ready to part with, but could use some TLC? Maybe you found...
Author
Best Sewing Machine Guide
Publisher Name
Best Sewing Machine Guide
Publisher Logo