Learning how to repair your own machine can save you a lot of money in the long run, and it's not as difficult as you might think!
How to Learn About Sewing Machine Repair
There are many ways to learn sewing machine repair, from taking sewing machine classes, to attending workshops, to looking for tutorials online. Even reading a good book like teach you the parts of the machine, the basics of fixing and maintaining a sewing machine.
Benefits of Learning to Repair Your Own Sewing Machine
One of the biggest benefits of learning to repair your own sewing machine is that it can save you a lot of money. Sewing machines are not cheap, and even the best ones will need some occasional maintenance. If you take your machine to a professional every time it needs to be repaired, you can quickly rack up a large bill. However, if you learn to do some simple repairs yourself, you can keep your costs down significantly.
Another great benefit of learning to repair your own sewing machine is that it can extend the life of your machine. Just like any other type of machinery, sewing machines need regular maintenance in order to stay in good working condition. By doing some simple repairs yourself, you can make sure that your machine regularly stays in good shape for many years to come.
Yet another benefit of learning to repair your own sewing machine is that it can help you avoid costly mistakes. If you take your machine to a professional repair shop every time it needs repairs, there is always the possibility that they will make a mistake that could end up costing you a lot of money. However, if you learn to do some simple repairs yourself, you can eliminate this risk and save yourself a lot of money in the long run.
Finally, learning to repair your own sewing machine can give you a great sense of accomplishment. There is something very satisfying about being able to fix something yourself, and it can be a great way to show off your skills to friends and family. In addition, repairing your own machine can also be a great way to help others and bond with other sewing enthusiasts!
Earn money repairing other people's sewing machines
When you know the basics of fixing sewing machines, you can even charge for your sewing machine repair services. And you don't have to be an expert to do this as most problems can be solved when doing a service on a machine and then looking up common faults in each models. Experienced technicians train to on particular models and we have explained a run through below of how they work.
Information on Sewing Machine Maintenance
Sewing machines are mechanical devices and must be maintained just like other machinery. Sewing machine maintenance includes lubrication of moving parts, an inspection of the internal workings for broken or worn parts and re-adjustment if necessary. Compressed air or a soft brush may be used to remove lint, thread or dust from your machine.
Some sewing machine manufacturers recommend oiling a sewing machine every 20 hours of use, so this should be taken into consideration when purchasing a sewing machine. The type of sewing machine oil may be outlined in your instruction manual. Having a small oil bottle on hand is important to remind you to regularly oil your sewing machine. Machines that have not been cleaned properly or maintained regularly tend to produce poor quality work with difficulty in handling the fabric becoming an issue especially with heavier weight fabrics such as denim.
Sewing machines should also have their foot pedal mechanism checked occasionally to ensure it is free from obstruction and operates smoothly (if required they can be easily dismantled by following the sewing machine manual).
Sewing machines are usually outfitted with a one-year warranty and with proper maintenance you should extend the life of your sewing machine.
Where to Find Parts for Sewing Machine Maintenance
One option is to search online for sewing machine parts. There are a number of websites that sell both new and used parts, so you should be able to find what you're looking for without too much trouble. Just be sure to compare prices before you buy anything, as there can be a big difference between different sellers.
If you're looking locally for parts to maintain your sewing machine, the best place to start is with your local craft store, sewing machine dealer or repair shop. They should be able to point you in the right direction, and they may even have some parts in stock.
Finally, don't forget that you will find part numbers and sewing machine maintenance instructions in your sewing machine's manual. These can be very helpful, especially if have multiple models of machine under the same brand and don't want to buy the wrong part.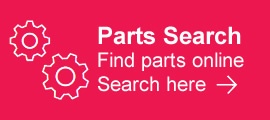 Cleaning of Sewing Machine Sewer Hopper or Bobbin Area
Sewing machines come in many different varieties but have some common areas of cleaning. Sewing machine sewer hoppers, also known as bobbin cases or bobbins, need to be cleaned periodically so that the thread can travel smoothly into and out of the machine and onto the needle plate or presser foot (which hold it firmly in place), without any issues.
Sewers who use oil based lubricants for oiling their machines especially will find threads sticking in this area due to being slightly oily/greasy and not easily cleared away by normal washing and rinsing. Sewing machine sewer hoppers can be easily cleaned, simply by taking out the bobbin case, using a plastic or wooden tool to push any threads that may stick in the area back into the bobbin case and then reinsert it and put on the cover. This process should be repeated until no more threads are stuck in this area of the sewing machine.
It's better not to use hot water when cleaning your Sewer Hopper as this could cause damage to other parts of your Sewing Machine such as plastic or rubber parts which tend to soften with high temperatures.
Cleaning Sewing Machine Sewer Hopper – video
Other areas of the sewing machine such as the feed dog area are also susceptible to getting clogged with thread and lint that can cause problems while sewing, so it is important to clean these areas too .
Sewing machines with removable feed dogs are easier to clean that those which do not have removable feed dogs as these parts can be taken out and cleaned separately.
Sewing machine needles also need to be checked for wear of breakage regularly, especially if sewing thick fabrics or multiple layers as they will get worn down faster than normal.
The Most Common Issues with a Sewing Machine Video
Sewing Machine Maintenance Technician's Checklist
It's been over a year since your last sewing machine service. Your machine is starting to sound a bit louder than when it was new, the stitches are not as even and lint keeps popping out of places that you thought you had cleaned.
It's time to have your machine professionally serviced. Our store is lucky enough to staff one full time authorized service technician and two for your Vacuum cleaner to, that can keep up on all the incoming repairs within 1-5 days. And their talents are something to behold. They are capable to cleaning ALL brands of sewing machines, embroidery machines and sergers including SINGER!
So what exactly does a repair shop do when you drop off your machine? Below is a check list of every part of the machine that they check.
 First, they place the machine on an anti-static mat and attach themselves to the mat with an anti- static wrist strap.
This prevents any electrostatic discharge by safely grounding themselves while working on any electronic sewing
machines.
 Pull off all covers to get to all major components.
 Remove all lint, dust, and old oil.
 Remove any thread wrapped around the hand wheel and take up lever.
 Check top tension disks and remove lint build up from low quality threads.
 Check timing belt/motor belt for belt tightness. Look for any excess wear spots.
 For older machines: check motor brushes and make sure the motor is turning freely.
 Check all shafts for any play or wobble.
 Check wear in all barrings.
 Check the mechanism that drives the feed dogs for any play.
 Check all gears that drive the machine.
 Check the mechanism that drives the hook in the bobbin case area.
 Check for any excess play between the hook and the hook driver.
 Tighten any gears that are getting loose or wobbly.
 Check bobbin winder.
 Check feed dog height. A slight change in height can effect the way fabric is pulled through the machine.
 Check feed dog alignment checking to make sure the feed dogs are straight and not rubbing on the stitch plate.
 Oil every moving part of the machine.
 Check that the needle is centering in the needle plate both from side to side and from front to back. The slightest bit
off in any of the four directions can cause extra needle breakage when sewing extra wide stitches or heavy fabrics.
 Check needle and hook timing.
 Check that the presser foot sits straight on the feed dogs and is at the proper height.
 Time the feed dog movement to the machine needle.
 Calibrate bobbin case tension.
 Check and clean bobbin case of any excess build up of lint.
 Check foot control's electronic contacts, cord, cord end and look for any cuts in the cord.
Test Sew Out
Once all areas of the machine has been completely checked, oiled and adjusted. It's time to see how it sews.
The technicians are looking for a smooth running sound, balanced tension, even needle swing, centered needle position, proper feed dog movement/balance of stitches that stitch forward and reverse. They also test sew at full sewing speed. If even the smallest area is off, it will be magnified when sewing at full speed. They use a high quality polyester thread and
also insert a new Universal size 80/12 sewing needle.
Sergers: Sergers receive extra care as the technicians check looper timing both for the upper and lower loopers, feed dogs, cutting knife and needles. Sergers must have precision
clearance or else it will not work!
Embroidery Machines: Embroidery units require special checking of all sensors, belt tension and arm movement. They are cleaned of any lint and oiled. When sewing out an embroidery test pattern, they look for precise alignment of outlines and proper tension.
Walking Feet:
Walking feet can be cleaned and oiled for smooth quiet motion. Bring the walking foot along to have it checked through!
What to bring with a machine for service?
Machine, foot control, power cord, standard zig-zag presser foot (not a 1/4 inch foot), a standard zig-zag throat plate (not a straight stitch throat plate), bobbin case and correct bobbin. If bringing an embroidery sewing machine, also include an embroidery hoop and the embroidery foot. it is a good idea to bring the machine's manual to speed up servicing and may save you money.
A yearly service will prevent any heavily worn areas to be caught before they cause worse problems down the road.
For example, if a shaft or barring is not properly aligned, the excess wear will eventually cause other areas of the machine to be prematurely worn out. Most older machines do not need major replacement of parts when preventative maintenance is scheduled. Most newer machines certainly will not need parts replaced but weekly use might need thorough cleaning. Just like our bodies, teeth and car receive yearly check-ups, even vintage sewing machines, make sure your sewing machine receives equal treatment.
Conclusion
We hope you gained a thorough understanding of the processes that technicians go through.
If you follow these tips, you should be able to take good care of your sewing machine to keep it in good working order for many years to come! Thanks for reading and happy sewing!
Summary
Article Name
Sewing Machine Maintenance & Repair - Learn to Do It Yourself
Description
Sewing Machine Maintenance & Repair - Learn how to do it yourself and save a packet. Just about anyone can learn to do basic sewing machine repairs. In fact, if you can learn how to use a sewing machine, you can learn how to fix one.
Author
Publisher Name
Publisher Logo