Not everyone appreciates the importance of having a good sewing machine table. Sometimes even the users of sewing machines don't really know care much about the details of their sewing machine tables as long they have space enough to work on. But having the right kind of sewing table can make a lot of difference to the user. It provides comfort and ease of use that probably was undiscovered before. What may seem to be a trivial matter can actually be a vital aspect to some sewing machine users.
Finding the Right Sewing Machine Table
Sewing machine tables come in different size, form and features. It's much like clothes that have to be tailor fitted to certain users. What may work for some may not work for others. That is why it is vital to get the right kind of sewing machine table for you.
You probably haven't considered making a sizeable investment for your sewing table and prefer to spend it all on the machine. However, your work will be greatly affected on the comfort and ease of use that you will be experiencing in using your sewing table.
Points to Consider for Buying Best Sewing Machine Tables
There are several things that you need to consider in selecting the right kind of sewing table.
Height. One of the key things in considering your sewing machine table is the height. It has to be at a height that will be most comfortable for you to work on and not cause any undue strain on your back and arms. You will be expecting to sit and sew for hours and any comfort that you can get should be of utmost consideration.
Space. This refers to the general work space that you need in order to work as well as considering the availability of space where you can squeeze in your sewing machine table.
Features. There are many different kinds of table available that have different kinds of features. Some have more functional drawers and cabinets than others while some have a simpler and more basic design.
Design. This is primarily the aesthetics of the sewing machine table. Others may have preference as to how they want their sewing machine tables to look like.
Budget. Whilst it is great to be able to pick out the sewing machine table that would suit out fancy, we are still limited by the availability of our funds.
Purchasing a Perfect Sewing Machine Table
Once you have already figured out the qualities that you would want to have in your sewing table, it is time to search the market for available sewing machine tables. There are quite a number of available tables and we have narrowed down the search to some of the best sewing machine tables that are available on the market.
Top 3 Sewing Machine Tables
Features
Cabinet Dimensions of this sturdy sewing machine table are: 40″ wide x 19.75″ deep x 28 1/4″ high. It has an opening which is 23 1/2″ wide x 12 1/2″ deep and will support a sewing machine which weighs a 45-pounds. Platform is adjustable for different heights of machines. The table weighs 34 pounds and is White in color.
Qualities
Gidget is a sturdy craft table that offers free arm and flatbed sewing for those larger sewing machines on the market. The top is 40″ side to side x 20″ front to back. The steel locking legs offer a sturdy base, but fold up neatly for easy storage in small spaces. It comes with a Velcro strip to secure the legs in place and 2 wheels on the side of the table, Gidget is perfect portable sewing table for taking to classes, retreats or in your RV. The tough melamine table top surface is mark-resistant allowing for years of use creating sewing and craft projects.
Pros:
Since it can be folded, transporting it into different work spaces is easy. It is very sturdy, easy to handle and price is also reasonable for your sewing projects. The measuring tape decal on the top front of the table is very useful.
Cons:
Making the height adjustment is cumbersome and was complicated and it felt a little heavy.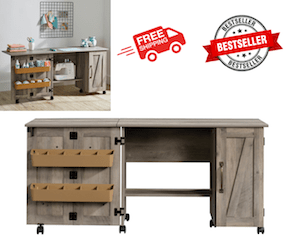 If you need something with a little more storage space, THIS sewing machine table would be great! Plus, it has wheels, so it's easy to move it around your sewing space if you ever decide to reorganize!
Craft Centre Armoire-Antiqued White

$319.98 + $118.95 shipping


Features
It features a super convenient, handy drop leaf extension for additional work space. The space-saving cabinet conceals craft supplies and more behind louver detailed door panels. Its center shelf includes a two outlet power strip, and six shelves are adjustable. Dimensions are: W: 35 1/8″ (89.2cm) D: 21 3/4″ (55.4cm) H: 61 5/8″ (156.4cm) and the color is Antiqued White. This product arrives ready to assemble with all Hardware & Instructions
Qualities
This product has a roll-out table for the sewing machine, and has a built-in power strip Space-saving cabinet conceals craft supplies and more behind louver detailed door panels. Shelf with full extension slides features drop leaf extension for extra work space for sewing and crafts. Center shelf also features power strip with two outlets for convenient electrical access. It has six adjustable shelves. Lower slide-out shelf features metal runners and safety stops. It is made of engineered wood with a scratch and stain resistant laminate finish. It comes in two separate boxes with instructions and hardware. Separate assembly is required.
Pros:
There is a lot of storage space for fabric and yarn and all the other craft supplies. It is very solid also. Since this sewing machine table can be used from both the sides it provides an added advantage to left handers.
Cons:
Difficult to assemble. It doesn't really have space for most sewing machines within the armoire.
Features
The opening of this sewing cabinet will accommodate sewing machines no larger than 22-9/16″ wide x 11-3/4″ front to back (deep) x 14-1/2″ tall. Bertha will fit the Bernina 8 Series 830 & 820, Viking Diamond, Topaz, Ruby, Sapphire, Baby Lock Ellisimo, and Brother Quattro, plus plenty of others. Cabinet dimensions Open: 84-3/16″ wide x 39-3/4″ deep (quilt leaf fully extended) x 30-1/2″ tall. Cabinet Dimensions Closed: 43-1/2″ wide x 23″ deep x 31″ tall. It comes in Oak color and includes quilt leaf extension.
Qualities
Bertha is made to fit today's large and heavy sewing and embroidery machines. Its airlift holds a 60 pound machine and will move the sewing machine up and down effortlessly into 3 positions: free arm, flatbed and storage. A quilt leaf is also for the back of the cabinet. The leaf will increase the workspace behind the unit, so fragile quilts won't fall on the floor as you pass them through the machine. The leaf slides along a metal rod behind the cabinet for custom positioning to the left of the sewing machine. The two doors on Bertha have a total of 8 storage trays for all your sewing accessories. A cut out in the front allows for machine knee lifters to be used comfortably. Sew with correct posture avoiding stress on your hands, back and neck in any position by sitting in front of your needle for center needle sewing.
Pros:
Looks good and very functional
Cons:
The instructions regarding assembly needs refinement to make it easier to put together.
<<Check the price on Walmart >>
Making Your Decision
Finding the proper sewing table and sewing cabinets can make a huge difference in enjoyment and productivity of sewing jobs. The products described above are ideal for crafts and hobbies. All the three products are highly functional, good in appearance and reasonable at their price.
Choosing a sewing machine table should be done with great care and consideration. While it may not cost as much as your sewing machine, oftentimes it is still a hefty investment. Thus, it is vital that you are going to make an informed decision in choosing your sewing machine table.
Getting a sewing machine table is a must though for every sewing machine user. The comfort of the user would be greatly improved. Also, the quality of sewing done could also be affected by the sewing table available. Don't let your back and hands suffer any further. Be sure to pick out an Arrow sewing machine table just right for you.