Dimensions: 14.5 x 7.5 x 12 inches

Weight: 14.6 pounds
Are you on a look out for singer stylist 7258 sewing machine reviews so that you could buy one? Then you have come to the right place. Singer stylist 7258 sewing machine computerized free-arm with automatic needle threader is an electronic sewing machine that is programmed so as to help the tailor and to come out with excellent quality garments and clothing. It offers a wide range of stitching patterns and designs to create decorated outfits, heirlooms, table cloths etc. This machine is launched with many automatic features which will make your sewing projects easy and satisfactory.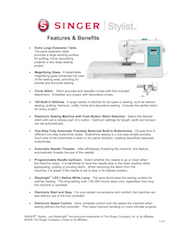 Features of Singer Stylist 7258 Sewing Machine
This machine comes with 100 pre-programmed sewing patterns suitable for day to day sewing, quilting projects, hobby and craft works, heirlooms and other decorative sewing.
The automatic needle threader is the highlight of this product. The machine will thread the machine on its own and the needle threading job also will be done automatically. When the sewing work stops, the needle can be lifted or pressed down with the automatic needle up-down option. The bobbin can loaded through the top of the machine and is quite to easy to pop the bobbin in and out.
The machines electronic auto-pilot feature helps you stitch without using the foot pedal and maximum speed limit can be easily adjusted. This machine is designed for use in United States and Canada only.
The stitch preferred by you can be selected easily by pushing the button effortlessly. Length, width and tension of the selected stitches can be adjusted with the help of automatic adjustments provided with the machine.
Other beneficial features of this machine include the press button stitch options compared to the knob adjustments, straight stitches, decorative stitches, utility and domestic purpose stitches etc.
The presser feet can be handled by means of the pressure adjuster when you have to deal with a wide range of cloths from thin chiffon type to thick denim. Extra high level foot lift is a helpful feature for working with thick layers of hard cloths. You can use the extra foot lift for quilting works also. Single step simple button sewing and perfectly designed automatic buttonhole stitch option is a helpful feature of this machine.
There is an automatic foot for fixing the button and to fit the button to buttonholes. Six single-step buttonholes are associated with this function. You can choose from the six different types of single-step styles and all sides of the buttonhole are stitched in the same alignment, thus presenting brilliantly arranged buttonholes.
You will find a number of useful accessories within arm storage space. These include, three spool caps, auxiliary spool pin, single-step buttonhole foot, zipper foot, satin stitch foot, bobbins, blind hem foot, Lint brush, Seam ripper, screwdriver, darning plate etc.
Qualities of Singer Stylist 7258 Sewing Machine
This sewing machine is basically mechanical in its operations. The machine owns 9 different options to replace its stitching feet thus will help the tailors to create different types of outfits or other sewn products. . For the replacement of its feet a foot pedal complete and a screw driver is also provided with this machine. Moreover, the automatic 100 stitch pattern options will help the sewers to try most of their innovative ideas to create wonderful outfits or home decors.
The stitch selector is an amazing option since this will save time by adjusting the length, width and tension of the stitches, so that you will be able to do more stitching works completed within a short period of time. Automatic single-step buttonholes options of six different styles are available for button fastening which is also very useful. The stitch selector is also extremely helpful for easy sewing.
The combination of many different stitching options and other adjustments makes the singer stylist 7258 sewing machine fit for quilting jobs and appliqué works. In addition, this easy to use sewing machine possesses a bright LED light. The light provided by this lamp helps to illuminate cloth surface where in the sewer can view the work without difficulty. The start and stop button and the speed control are considered as the plus points of this useful machine.
The automatic tension adjustments button available on in the sewing machine can be simply touched so that you can control the sewing speed of this machine. You can control the speed at which you sew and decide the maximum tension of stitching for achieving high quality end products.
Pros of Singer Stylist 7258 Sewing Machine
The wide sewing features available will help to improve your sewing skills and you can achieve professional level quality in your woks. The stitches this machine offers are neat and consistent. With its extra stitch patterns one can do creative embellishments especially on home decors and children's cloths.
This sewing machine is quite to use since most of its features are self-explanatory. But if you have some problem to start, then the user manual which contains very clear instructions will help you. This product can be run quietly and smoothly which results in flawlessly stitched and wonderful embellished garments.
The speed slider which controls the pace at which this machine work and its capacity to sew without the attached foot pedal is an advantage especially when you stitch long strips of cloth.
The bobbins are jam resistant and can easily be loaded and the transparent cover is really helpful to watch whether you run out of thread without stopping your work or unthreading your machine. The users need not to worry about managing the tension control because the machine will take care of it by itself.
If you are seeking a sewing machine suited for novice users, the electronic sewing features and the automatic options will make this machine a perfect fit for your needs. Hemming works can be done with utmost perfection since this product can manage twin needles. The manufactures offer 25 years warranty and a telephone support for this multipurpose sewing machine.
Cons of Singer Stylist 7258 Sewing Machine
Only a few minor issues stand against this product. One is regarding the press foot control which is not as responsive as many other machines of its kind. Another one is that the machine does not have enough choice of accessory feet.
Besides these, one aspect of the threading mechanism which is a bit difficult to learn, is positioning the thread in the correct position and laying the thread on the needle threader. This may sound a little bit troublesome, but once you got this process you will be okay with it.
Conclusion about Singer Stylist 7258 Sewing Machine
Singer stylist 7258 sewing machine is made with several useful features out of which some are automatic in function and easy to deal with. The automatic threader help to save your time by taking the thread directly to the needle-eye on its own and the needle position control feature of this machine lets you easily change the position of the needle while quilting. With this machine, you can work out a lot of creative sewing projects.